Campout Birthday Party
We had a great time at the campout party on Friday night! We had nine children here from 6:00 Friday evening until 8:00 Saturday morning. All but one of the children made it for the entire night.
First, we went on a hayride to a friend's house to feed his animals. I made each one of the children a little bag of bread to feed to them. Our friend, Mr. David, also let each one of the children pick a pumpkin to throw over the fence for the animals to eat. The kids were so excited to see and feed the different animals.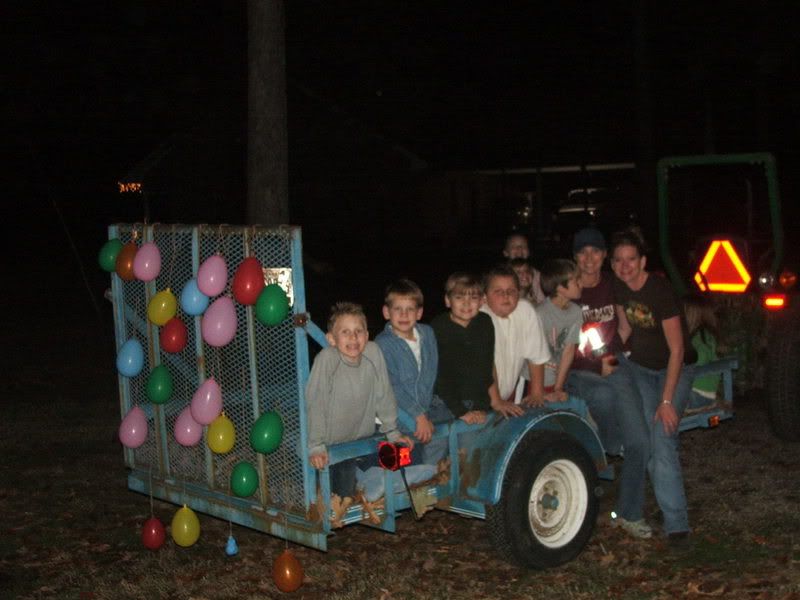 After the hayride, the kids opened their party bags. I tied all of their little prizes up in bandannas and tied them to a stick. I gave each one of them a flashlight, glowstick, trailmix, gummy insect, and a drinking thermos. After they opened their bandannas, they were able to use the little sticks to roast their weiners and marshmallows for hotdogs and smores. I played some games with them and gave out prizes. They played flashlight tag and a cool game with balloons. Then, Jeff brought his guitar out to the campfire and played for the kids while they sang. I couldn't believe how many of them wanted to sing. We also did some fun impersonations and told jokes. I hadn't planned any of this for the party, but it ended up being my favorite part. Our neighbors, Cathy and Ron, were there with us as well. They were a lot of help! I loved the feeling of all of us sitting around the campfire having fun and laughing. The kids loved to listen to Jeff play his guitar and were so great about taking turns talking and singing.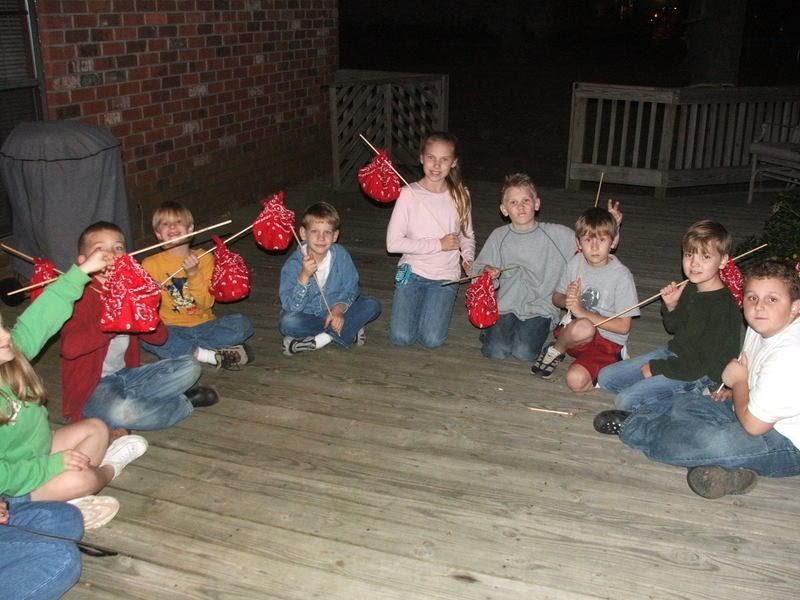 Finally, around 10:30, we went inside to open gifts and eat cake. I couldn't believe that the boys didn't ask to open their gifts before then. I guess they were having so much fun that they forgot about them. I made the boys separate cakes this year. I let each one of them pick out the plastic bugs that he wanted on his cake. I usually do one cake with each set of candles on opposite sides, so they enjoyed having their own this year. They received some nice gifts and plenty of money to spend at Toys R Us later!
We made it out to the tent around 11:30. We told progressive stories...each child added his part to the story when it was his turn....and made shadow animals on the tent wall. Most everyone went to sleep around 1:00, but some of us stayed up and played games until 2:00. It didn't get really cold until around 3:00 that morning, but everyone wanted to stay out.
We got up Saturday morning and had donuts and orange juice before the kids left around 8:00. All of the kids kept talking about how fun they had at the party. Patrick asked me if he could have another birthday party this year :). I had such a good time with this campout. Hearing the kids talk about how fun it was made all of the work so worthwhile. I'm so glad that I was able to do it for the boys.