A Blessed Christmas
We have had the most wonderful two weeks. In the middle of it all, everyone except me ended up with Strep Throat and congestion. I sometimes think that God keeps mommies well to take care of everyone else. I am so glad that He did.Carter started running fever with his Strep Throat on Saturday...the day that we were to have Christmas with Jeff's family. Jeff, Madison, and Patrick went next door to Jeff's parents while I stayed here to take care of Carter. Jeff and his dad brought our gifts and some food for us. Carter was so sick that all he wanted was to lie on the bed while I read to him.I was so happy that he woke the next morning with no fever, however, Madison had started running fever and complaining of a sore throat. This was on the day that we were to spend Christmas with my family. Her fever broke and she seemed to be doing well, so we all went to my dad's. I can't believe how full his house is getting when we all gather there...it is wonderful. Everyone was there to eat together and exchange gifts. I was so happy that I got my Dad's name. Along with a lot of other things that I thought he would like, I got him some books on arrow heads...something he dearly loves. One of the highlights of Christmas for me was watching his face when he saw those books! I love making him happy. I LOVE Christmas Eve at my Dad's....it is one of the best days of the year!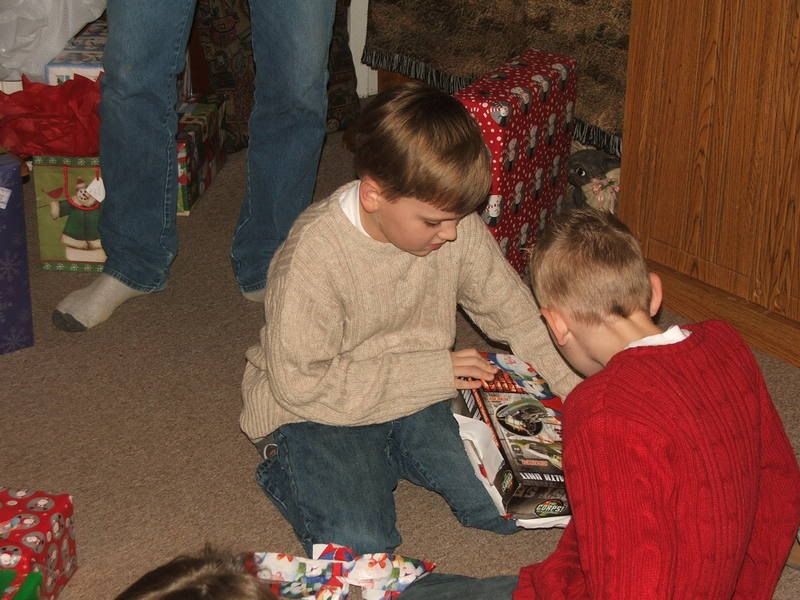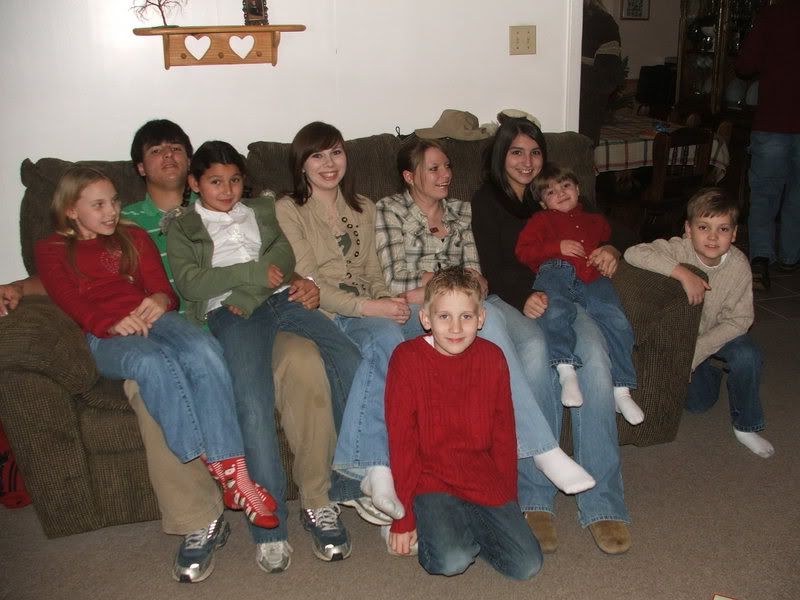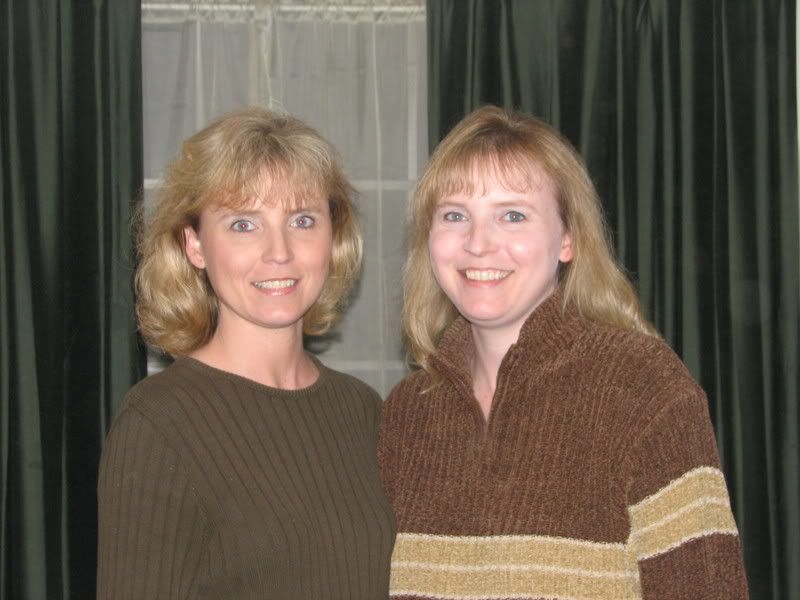 We got home around 8:30 and was in the bed by 11:00 or so. The kids all wanted to sleep in Patrick's room together, which worked great for me. I had asked them to observe a new rule for me...to stay in that room until we came to get them in the morning. Madison has always gotten up in the middle of the night to see what was out from Santa and then gone back to bed. I just really wanted to simplify things by making a new rule that would help them to all stay put until morning....we told them that we would come get them at 6:30 in the morning. Well, as luck would have it, we had a terrible thunder storm that night, which resulted in all of the kids, and myself, being awake from around 1:30 until after 3:00. Finally, everyone got to sleep again. We were all up around 7:00 the next morning. WHAT FUN!! We had an awesome day playing with all of our new things :). Jeff surprised me with a new piano keyboard. He also got me satellite radio for my car and a couple of other things that I wanted. I got him a new XBOX game, a carwashing kit for his truck, a guitar book and alarm clock/CD player. So, we were playing with our things right along with the kids. Of course, I LOVE playing with the kids toys!! They each got a new hand held game system. Madison got her new scooter, which I love riding :)....we even rode it in the house. We got them lots of games, of course. It is awesome to me how they just go from one thing to another playing all day.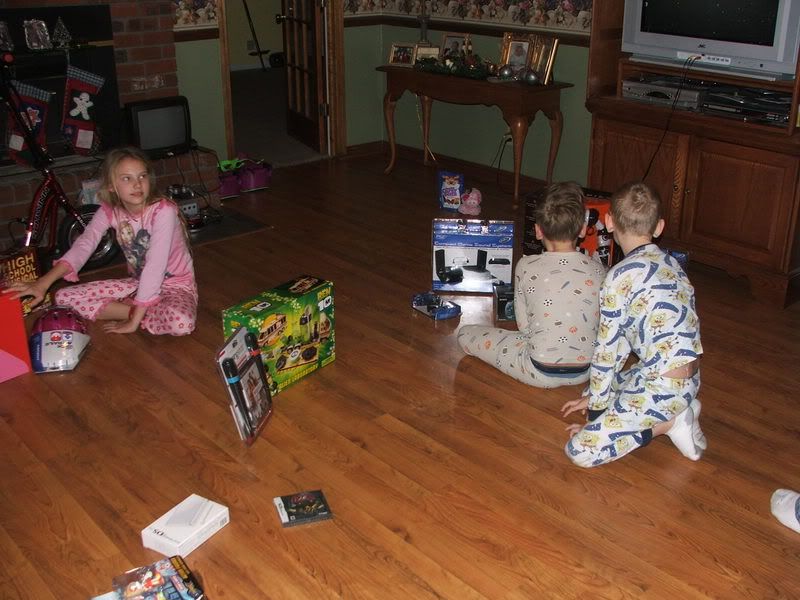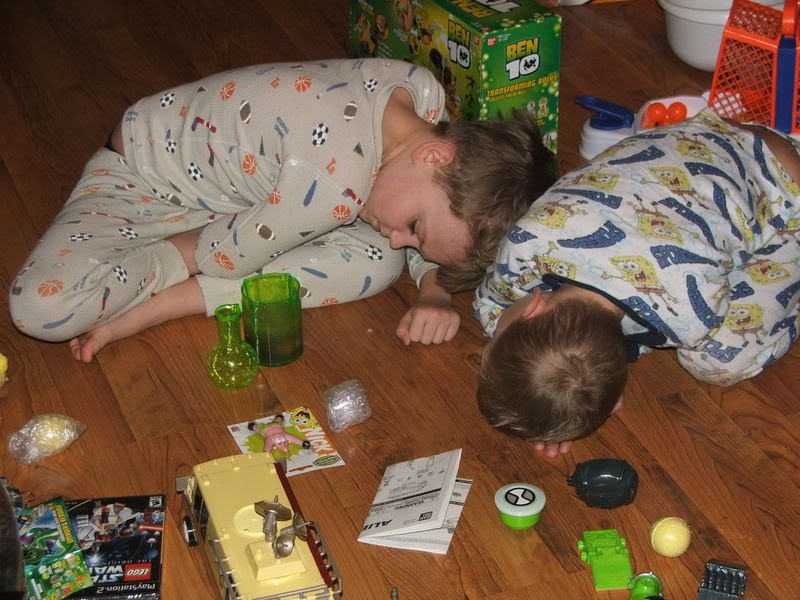 Madison did, however, suffer with her Strep Throat on Christmas Day. Two hours after we got up...after the gifts were all unwrapped....she fell asleep on the couch. She wasn't able to eat our traditional biscuits and gravy with us because her throat hurt and she just felt so bad. I ended up having to get more medicine called in for both her and Carter, but we didn't let any of this ruin our Christmas. I just took care of them and they just kept taking their medicine and playing :).They got up the next day and still had some things that they hadn't played with yet....some of it were the things they had gotten from my Dad's on Christmas Eve. Each night, we put the blow up mattress on the living room floor. I always keep all of their toys out in the living room, neatly in separate piles, until after New Year's Day, so they just get up each morning and start playing again. We had the cousins over Wed. through Sunday, as well as our neighbor a couple of days as well as a friend of Madison's one day, so we had a lot of activity in and out of here.
My sister, Vicki, called on New Year's Eve and invited us to come spend it with them. We had planned to go on Tuesday, but her kids were to go back to school on Wed. Jeff had plans to see a couple of patients on New Year's Day, and we really didn't have a big family gathering planned, so he was okay with us going to be with my sister. I hated leaving him on New Year's Eve, but it had been about 6 years since we had spent it with Vicki. So, we loaded the car with everything, stopped to buy some fireworks to take with us, and headed to my sister's. We had an awesome time with them! We ended up spending 4 nights! It is so great how our families can spend that much time together and get along for that long. She has 4 children, so there were 10 of us there most of the time. The kids all get along so well....it is like a second home to all of us. Vicki and her kids all love to play games just as we do, so we usually stay up too late every night. I am so tired by the time I get home, but it is worth it. It was hard to leave them, but good to settle back in at home once we got here.
We will have to get back to our normal lives on Monday. It has been a great Christmas break. We are so fortunate to be able to surround ourselves with family and friends as we have. We have so much to be thankful for all year, but it becomes so evident to me at Christmas. I thank God for His Son who has given us the hope that we can share all of eternity with Him and with the ones that we love. The happiness and joy that we feel at Christmas is only a tiny glimpse of what God has prepared for us....our eternity with Him. Not even the best Christmas would mean anything without that promise! I pray that we will remember that this year and put Him first in everything. May every goal we set for the new year glorify Him!!!