Epcot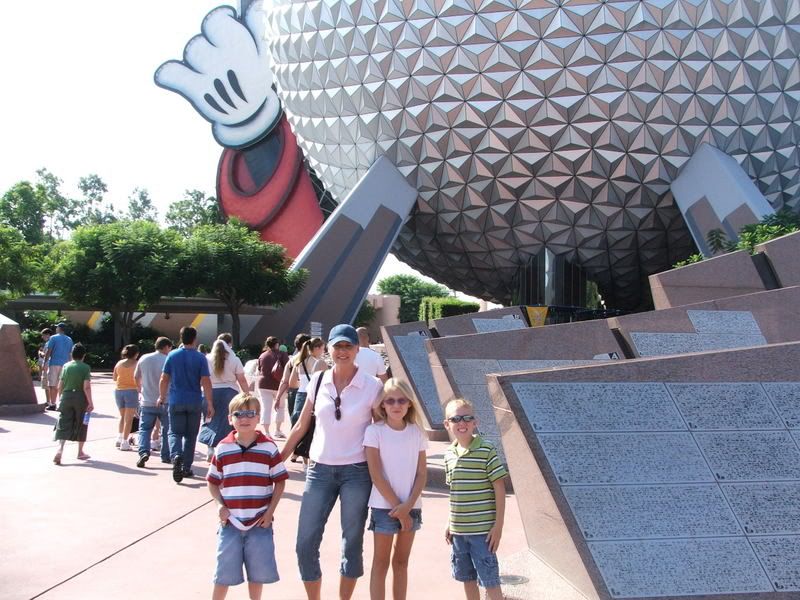 09/15/06
Today was bittersweet for me. I was so excited to be at Epcot, while at the same time sad that it was our last park to go to…our last piece of Disney and a wonderful vacation. We had a great time!!! Three things made Epcot worth going to….Fast Track, Mission to Mars, and Soaring. The last time Jeff and I were at Epcot was 12 years ago. All of these things have been added since then, so they were new to all of us. I was most excited to see Soaring. It is a simulated flight over California, ending with a beautiful shot of Disneyland at Christmas. It was amazing!!! The rows of seats were lifted high into the air and a huge screen wrapped around so that you felt like you were flying over the different areas of California. To make it even more realistic, they even added smells for each area….orange for the orange groves, pine for the forest, etc. We rode it three different times. The ride that I was hesitant about going on was Mission to Mars. I was originally really excited, but then was told by a few people that it was VERY intense. However, when we got there I knew that I had to try it. I am SO GLAD that I did. We all went on it the first time. Everyone is divided into teams and given certain jobs to do for the mission. The teams are put into capsules…tight little spaces. As the ride begins the seats are tilted back so that the screen is over you and all you see is the launching pad straight up above you. The countdown is done and suddenly it feels like you are propelling up the launching pad and into space. It is so intense that you can feel your face being pulled back and can barely lift your hands up. IT WAS AWSOME!! We all enjoyed Test Track and did it a few times. The kids were excited to go on Spaceship Earth…inside the big round Epcot ball.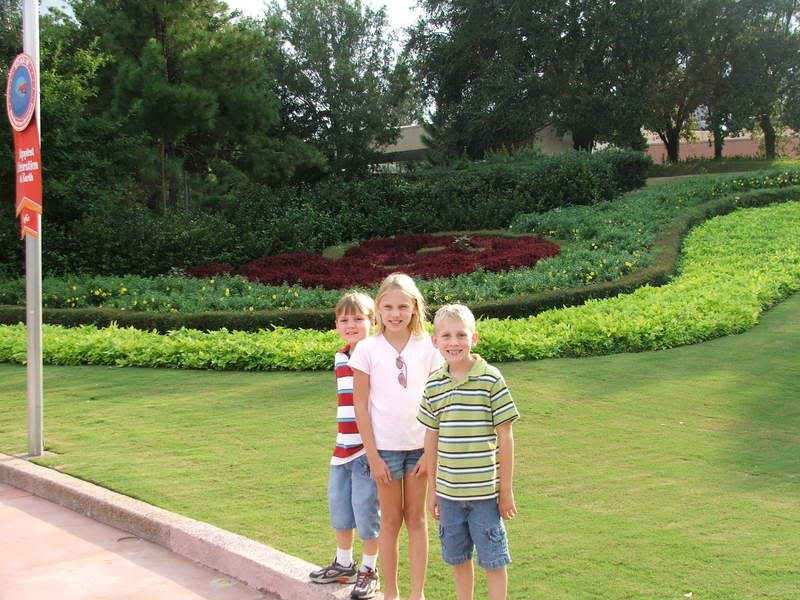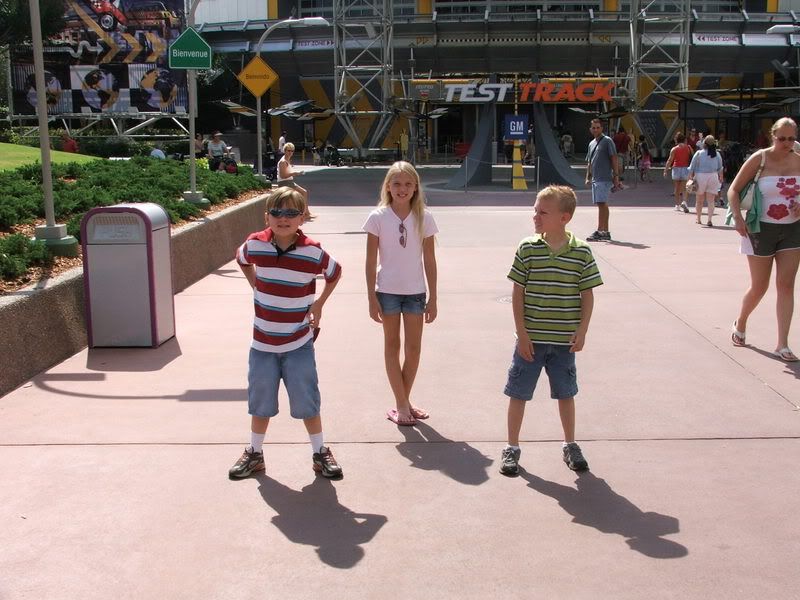 By the time we made it to the World Showcase, it was nearly dark. I mostly wanted to see "O Canada!", a CircleVision 360 movie in the Canada pavilion. We did make it to that, but the rest of the countries we had to just walk through on our way to Mexico, where we ate outside by the water so we could watch Illuminations….a firework/laser show over the water. Of course, it was amazing. The food was good and it was nice to sit and enjoy the show. We were very tired by the time we made it back to the room that night. Once again, Marta had left us a nice surprise. She made a water slide out of pillows and clear garbage bags and sat Minnie on the top of it with Mickey at the bottom waiting to catch her. It was precious. The night before, she made an elephant out of pillows and towels and sat Stitch, Patrick's new stuffed animal, on his back. It was always exciting to see what she had for us.
I was very sad to leave Epcot because I knew there would be no more Disney parks this visit. It was a very fun, busy day and a great ending to four days full of new things to see and old things to revisit.