We Are Home!
Awsome....Amazing....Wonderful!!! We had a great time this week at Disney/Universal!!! It was our best trip to Disney ever and a vacation we will always remember!! There's so much to tell that there is no way that I can do it at one time. I don't want to leave anything out, so I'm not going to try to post it all at one time.
09/11/06
We left at 7:45 in the morning with plans to drive 9 hours to Tallahassee Florida…our first stop on the way to Disney! We had a good day. The kids were so excited to get up and get started with our vacation. They were excited about playing with all of the things that I had packed to entertain them. They all got along so well and never complained of being bored the entire way. We made it to Tallahassee around 5:00…of course, it was 6:00 after the time change. It was a real life lessons for the kids for the time zones. We've studied about them, but it was neat for them to actually see it in real life.We let the kids swim for a while at the hotel while Jeff went to get something for us all to eat. We ate out by the pool then went in to turn in early so we could get up at 4:00 the next morning. We wanted to get to Orlando as early as possible so we could check our bags in at our Disney hotel and head to Universal Studios.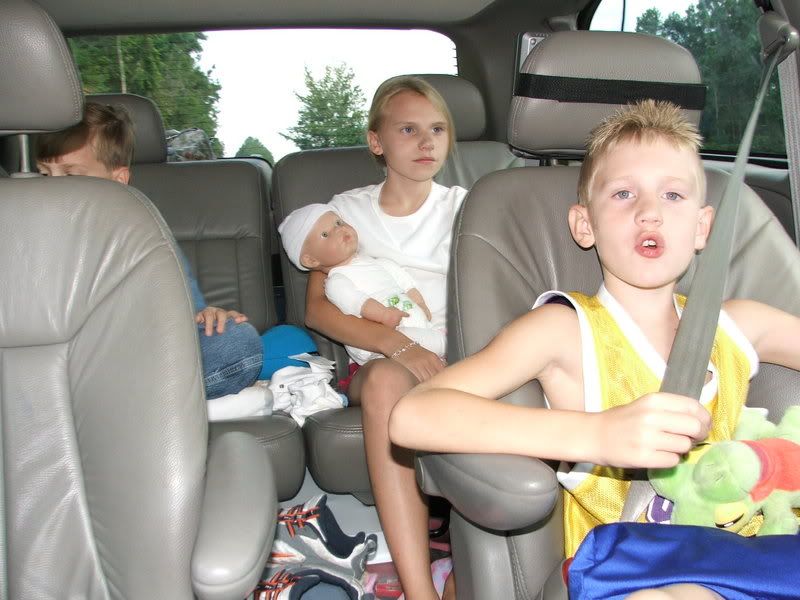 09/12/06
We got up this morning at 4:00 as planned. The kids thought it was neat to get up and leave while it was still dark. We made it to our hotel around 11:00. It was so exciting to check in. It's so great to stay on the Disney property because it makes the entire trip so magical. The kids loved the Mickey soap and shampoo….okay, I did too. We settled into our room then headed for Universal. I know…how strange to settle into Disney then go to Universal, but we really wanted to try it out this time. We are so glad that we did!! It was awesome. There were so many characters walking around. They were so easy to approach. It was so cool to see some of the characters that they love and wouldn't have had the chance to see at Disney. The rides and attractions were awesome. We rode the ET ride, which was a very cool experience for them because they really like the ET movie. The Terminator was a 4D experience combined with an onstage performance. We loved the Jimmy Neutron ride. It was a 4D simulation ride….we felt like we were right there in the cartoon. The boys seemed a little hesitant to go into Twister and Earthquake, however, we decided to go. They were both amazing. They put us right in the middle of the storm. Even though we knew that it wasn't real, we couldn't help but to be drawn in. It was so cool. Those were the kind of things that were there….it reminded me a lot of MGM Studios. There was a kid section with a small roller coaster and play areas. I didn't know if the kids would be interested in it, but they were. That's what is so good about their ages right now. They are old enough for the bigger rides, yet still young enough to enjoy the kid stuff. Because of that, we covered every area of the park! The greatest thing was that there were NO CROWDS. We couldn't believe our luck. We never waited in lines. The wait time on the rides were always 5 or 10 minutes. It usually turned out to be no wait at all. If we enjoyed a ride, we went right back on it as many times as we wanted to. The weather was beautiful and the crowds were low. It couldn't have been more perfect. We were all really tired by the end of today, but it was great…a wonderful start to our vacation!!! The kids enjoyed a nice swim in the pool when we got back to the hotel while Jeff and I relaxed. I was so excited about going to The Magic Kingdom the next day!!!!!