The Magic Kingdom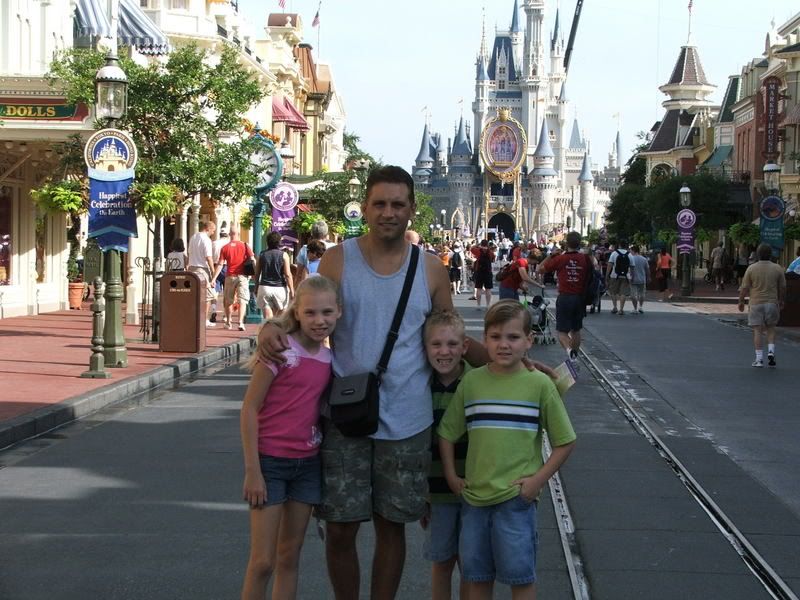 09/13/06
This is the day that I have been looking forward to since the day that Jeff told me that we were going to Disney….The Magic Kingdom!! It is what Disney is all about. From the moment we walked into the front gates, we were in a magical world. The characters were all standing around, the Disney music was blaring over the loud speakers, and the Princess show was happening at the Castle. We couldn't take it all in fast enough. The first thing we did, after Madison watched the Princess show, was head to SPACE MOUNTAIN!!! The kids were too young to ride it last time we were at Disney, but we felt sure that they would all get on with us this time. THEY DID!!! We rode it the first time then went right back on it again!! Just like at Universal, there were NO LINES. I just couldn't believe that we were going to get to ride whatever we wanted to ride as many times as we could in that day. That's exactly what we did. If we enjoyed it, we did it as much as we wanted. Once again, we all enjoyed the big rides like we were teenagers and the kid rides like we were preschoolers. We rode Dumbo, Aladdin's Magic Carpet Ride, the Teacups…all of the classic Fantasyland rides.
I was SO GLAD that we decided to take the kids' autograph books back with us this year. They had a lot of pages left, so I just labeled 2006 and started the new autographs there. We could have gotten new books, but I want all of the different years in the same book. They enjoyed having them signed so much, and I enjoyed getting pictures of them with the characters. The Captain Hook experience was really funny. True to their characters, they were so mean…haha. Really. He even threw their books into the flower bed when he was done with them. It was all in fun, though. Jeff was great with the camera this year. I was able to just enjoy myself and let him deal with the pictures a lot.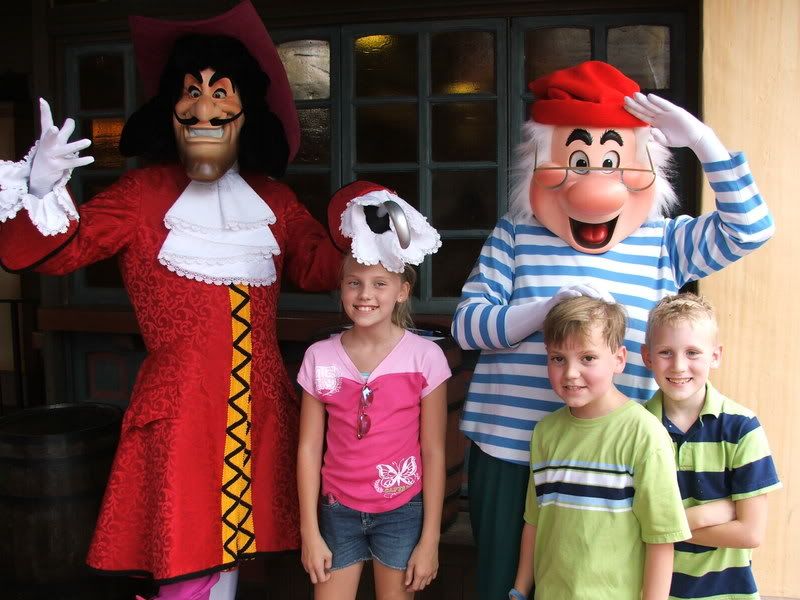 What can I say about Big Thunder Mountain Railroad and Slash Mountain!!! THEY LOVED IT!! We rode both of them over and over and over. We rode them a couple of times to begin with then went back in the evening to ride them more. The evening was beautiful and we had free reign on the rides…..it was a Disney happy moment!! We rode the Astro Orbiter again at night when all of the Magic Kingdom was lit up and the castle was changing colors in all of its glory. It was a beautiful sight. And of course, a trip to Disney would not be complete without Small World. I don't know what it is about that attraction, but it puts chills on me every time. Then, as if the day weren't already absolutely perfect, it was time for the fireworks over the castle!!Since the crowds were do low, we were able to sit RIGHT in front of the castle. We sat down on the ground among everyone else….ate our Mickey ice cream bars and enjoyed the show. It was AWSOME!!! I don't think the kids spoke a word for the entire show…they were in awe of it all. The show was so synchronized with the music and storyline that it drew you in. At that moment, nothing else in the world existed..just us and the Magic Kingdom.
As if the day hadn't been fun enough, we got back to our room to find that our housekeeper, Marta, had made a man out of our towels, sheets, pillows, my hat, and my houseshoes. It scared us when we walked in to see "it" lying on our bed. We had a good laugh about it and then took some pictures with "it". After that, the kids were always excited to see what Marta would make the next day!