Our Cruise
Jeff and I had an absolutely amazing time on our cruise. The weather was beautiful and the experience wonderful.
We arrived in Mobile to board the Carnival Holiday around 12:30. We were able to board immediately. The Mobile port was so great compared to what we experienced in New Orleans 4 years ago.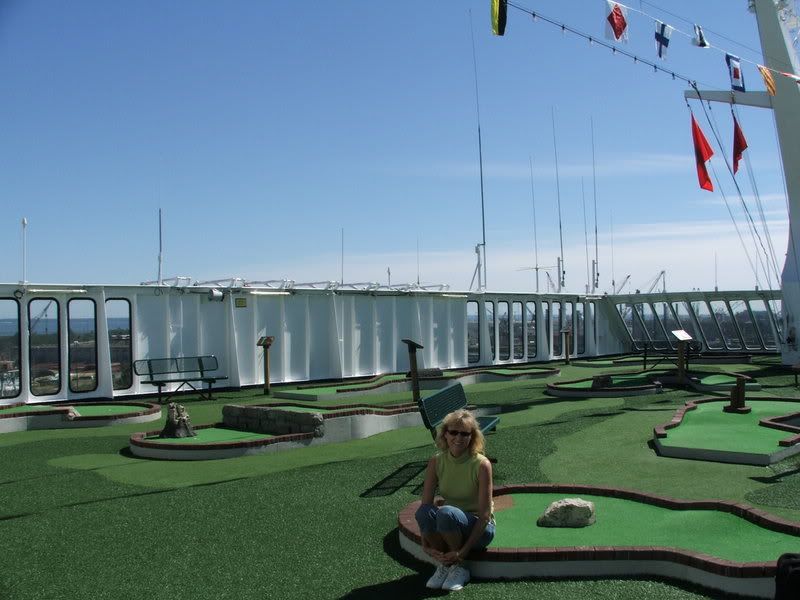 We ate lunch on the ship while waiting to sail. For the rest of the day and Sunday at sea, we lounged around on the decks and enjoyed the activities, food, and shows on the ship. The Holiday has a new 9 hole golf course that was not there the last time we were on it….how fun! It was very windy on Sunday, but beautiful. It was so great to just relax all day and then dress for the dinner and shows at night.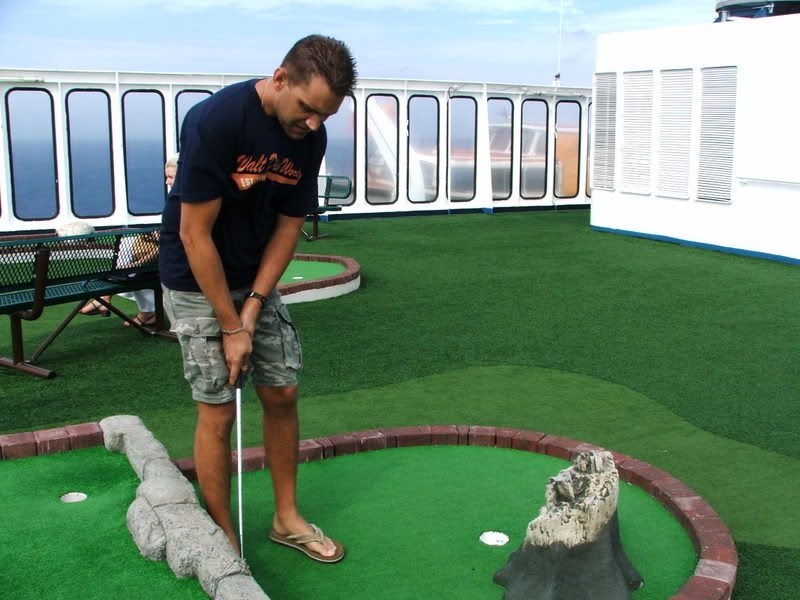 Sunday night was Formal Night for dinner. It was fun to dress up, get our pictures made, go to dinner, and then enjoy the show afterwards. We met a nice couple, Alan and Julie, at the show Sunday night. We sat around afterwards and got to know each other and ended up hanging out with them a lot on the ship and at Cozumel. We enjoyed them so much and hope to see them again some day.
We arrived in Costa Maya around noon on Monday. It was great watching the ship approach land. We were able to dock at the pier and hop right off of the ship to start our day there. Jeff and I took a taxi to the beach and enjoyed great Mexican food and drinks until it was time for our snorkeling tour at 2:00. The waters were very rough because of the high winds, so we had to work hard to stay up with the guide while snorkeling. The reefs were great and very close to us because the water was quite shallow. A lot of the tours were cancelled because of the wind, so we were glad that this one still ran. Afterwards, we relaxed some more on the beach before walking downtown to shop. I use the term "town" lightly as it was, in fact, no more than a worn path with tents and primitive housing where the locals sold their products. It was humbling to see the culture and how they lived. There was a nice big pool and commercialized shopping near the port, but I'm glad that we shopped where we did. It was a more realistic view of Costa Maya.
We took a taxi back to the port and made it to the ship in time for sail away. The water at Costa Maya was beautiful and the experience fun, but we didn't want to get left there!!
We were very tired from the day when we got back on the ship. We dressed for dinner and a show and then turned in early. We surprised ourselves by staying up until after 1:00 for the first two nights on the ship, so it was catching up with us.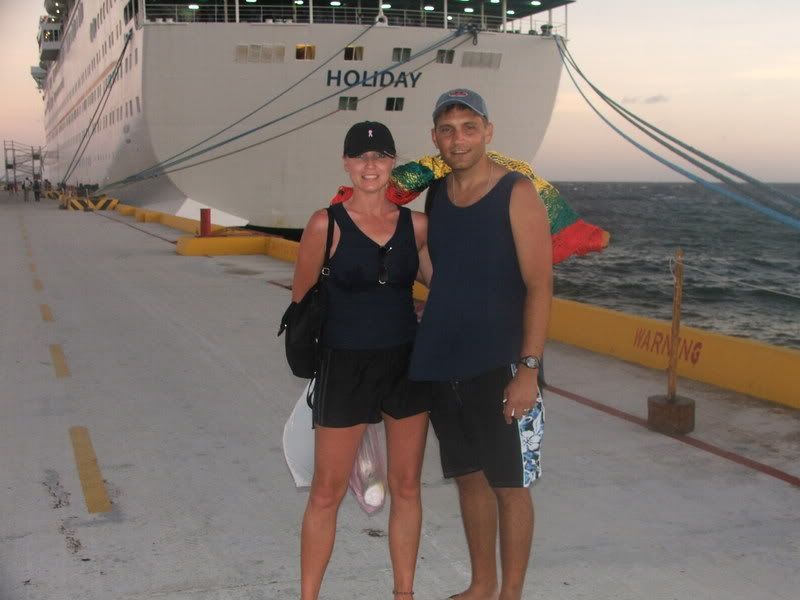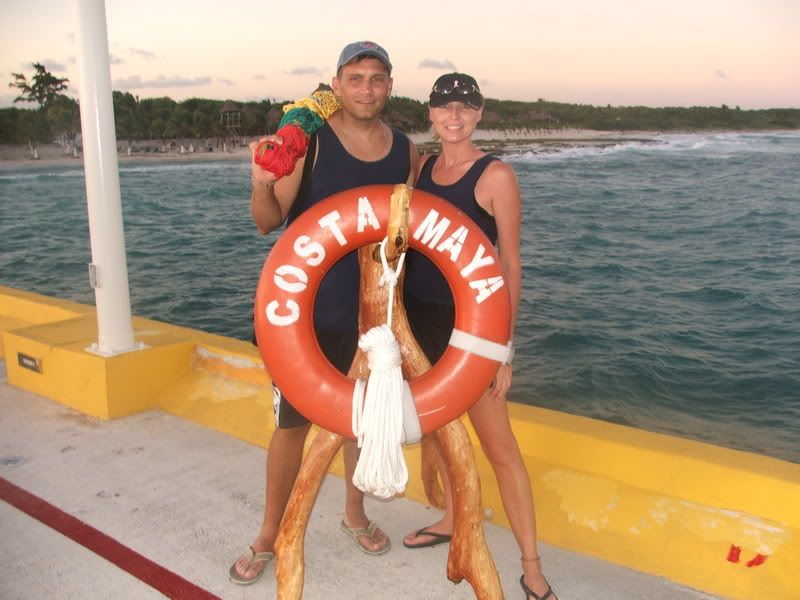 We arrived at Cozumel around noon on Tuesday. Most of the piers had been destroyed by Hurricane Wilma a year ago, so we had to anchor away from the one pier that they still had and tender in. That experience was much better than I expected it to be. The small boat took us right to the port and was there waiting for us when we arrived back at the end of the day. It wasn't bad at all.
We met up with our friends at breakfast on the ship that morning, so we ended up spending the day with them. I'm so glad that we did…it was an amazing day! We all took a taxi to downtown Cozumel and signed up for a snorkeling tour. We shopped a bit while we waited for the tour then spent the next few hours snorkeling and enjoying each other. The other couples on the tour were very friendly as well, so we had a great time. The tour took us to three different reefs. The water was VERY clear and blue, so visibility was amazing! Afterwards, we shopped a little more and had lunch in an outdoor restaurant. We got taken a bit on the prices, but were able to laugh about it later. Hey, everyone needs to get ripped off in Mexico at least once! We had bragged a bit too much about the great prices that we managed to get on our snorkeling tour. It all evened out in the end and was all worth it. We laughed so much together that day and enjoyed it to the fullest!! We were very tired from the day and the VERY hot sun that we'd spent it in, so we all napped when we got back on the boat. We went to dinner that night and met up with our friends again afterwards for the show. We hung out with them at different areas of the ship for the rest of the evening and even did a little dancing! We were amazed when we realized, while eating ice cream on the lido deck after dancing for a while, that it was 2:30 in the morning..haha!! I don't know how long it had been since Jeff and I stayed up that late together. We had a amazing time!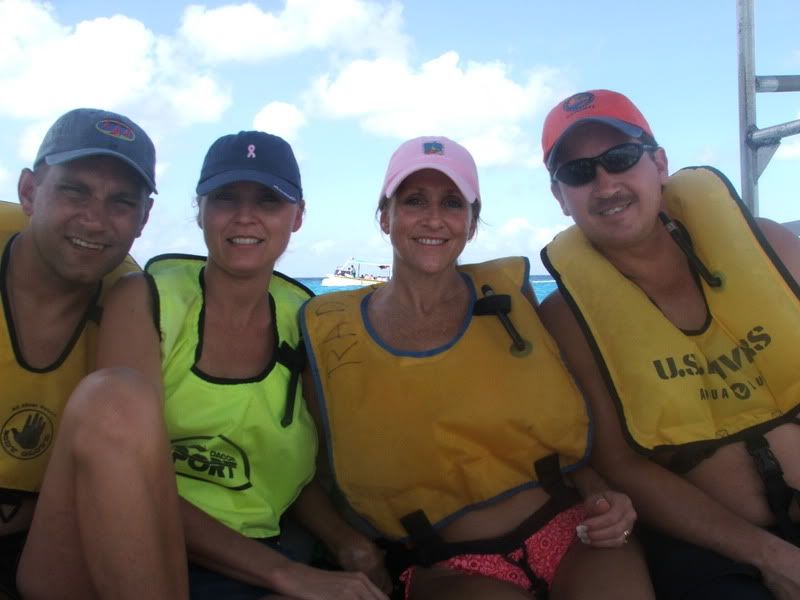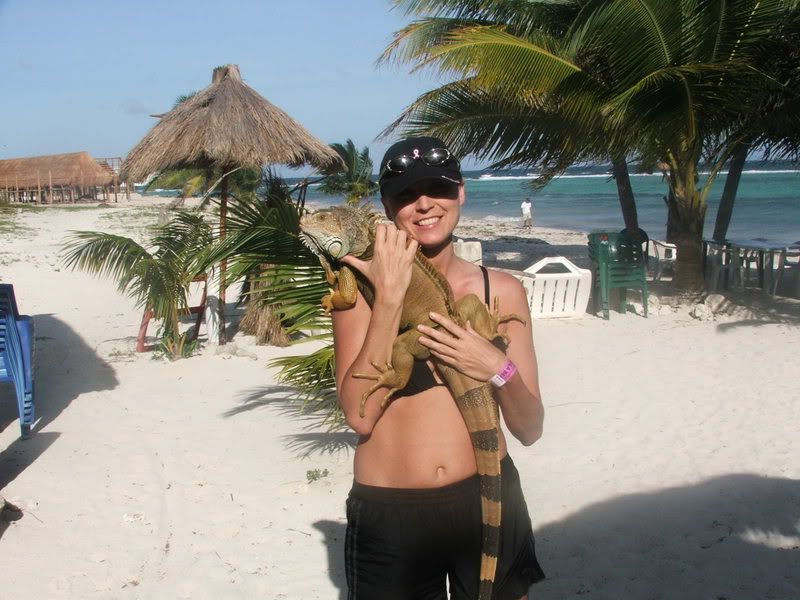 Needless to say, we slept in Wed. We mostly relaxed and ate that entire day at sea. It was so great to just be able to get up in the morning and spend the day doing absolutely nothing but what we felt like doing at the time. The weather was warm and calm. We went to dinner and a show that evening, but didn't stay out and about like the night before. Sadly, we had to get things packed up to leave the next day. While I hated for our trip to end, I really missed the kids. How did I handle being so far from them for so long? I just couldn't think about it too much. Once, when we were approaching Costa Maya, I thought about how much space, water, and time were between me and them and it felt scary, but I just had to not dwell on it. It was made easier by the fact that they were with Jeff's parents. They were so wonderful to watch them so willingly. I don't know how to thank them enough. How wonderful it was to come home and hear the kids say that they wanted to stay longer. They were SO HAPPY to see us and missed us, but had as wonderful a time as we did. That was amazing for us!!!
There is no way to put a price tag on what Jeff and I got from this trip. I encourage every married couple to get away and spend time alone together. While Jeff and I were on that ship and in Mexico, we remembered who we were when we first fell in love. It's not that we wanted to stay there, but it was so great to recall who we are and who we were before becoming parents. We know each other better and love each other more for the time that we spent together. We are better together and better for our children because of what we shared. When the trip was over and it was time to come home, we were able to bring that with us. It is, however, why we went to begin with!